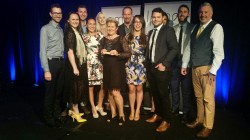 Wendell Property Management announced as The NZ Property Management Company of the Year last night at the Leading Property Managers of New Zealand Gala Dinner.
LPMNZ is an elite group of professionals made up of the very best property management practitioners and companies. They are at the forefront of New Zealand property management practice, and their Awards are highly sought after. The winners lead the way in professionalism, professional development and industry standards.
Richard Evans, Executive Director of LPMNZ said "All the finalists in these Awards were of such a high standard that it was very difficult to separate the winners".
"LPMNZ Members are governed by a Code of Practice and exemplify the highest levels of professionalism and innovation, therefore these Award finalists are deserving of the highest honour that we can bestow" Richard added.
Natalie Wendell and the team from Wendell Property Management are thrilled to have won this award, presented at the Leading Property Managers of New Zealand Gala Awards Dinner on Thursday 6 October 2016.
Wendell Property Management would like to thank their customers for their support and loyalty.